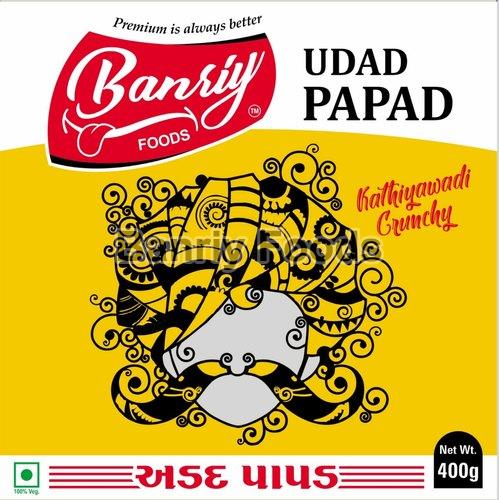 Making healthy dietary choices is the first step to maintaining excellent health and appropriate blood sugar levels. There is a tonne of food products accessible for managing diabetes wellness.
Knowing everything there is to know might be incredibly confusing with so many alternatives. Therefore, we are here today to respond to some of your pertinent queries. Let's talk about the widespread papad from a Udad Papad 400 Gm Manufacturer.
The Popular Food Item – Papad:
Let's first define Papad so that we may discuss its effects on our health in more depth. We can better understand its nutritional information if we understand the fundamentals of its preparation.
A thin, crispy, and oblong-shaped Indian culinary appetiser is called papad. It resembles an elegant, circular wafer or cracker similar to Indian flatbread.
Indian spices and a variety of lentils are used to make papad. To produce the dough, lentils like urad dal are needed. Numerous additional flours, such as soy and cereal flours, are combined with the pulverised lentil flours. Additionally, the dough is enhanced with nutritional additives including baking soda, oils, salt, and spice blends. Then it is formed into a very thin, rounded chip and traditionally allowed to dry out in the sun. Additionally, these are packed and offered in a variety of shops and markets. You can prepare the papad however you choose at home. It comes in a wide variety of tastes, components, sizes, shapes, etc.
Health Benefits:
Papad is a very nutritious food product thanks to the production process and all the beneficial elements. It is advantageous to your health and offers you several additional advantages.
Papad is a high-fibre dish since it contains lentils and other healthy seasonings. Due to the absence of gluten, it is also easier on the digestive system.
Furthermore, it has a low content of carbohydrates, cholesterol, trans fats, saturated fats, and other ingredients. When it comes to selecting healthy food products, these represent very essential aspects.
When consumed in the appropriate quantities and manners, it is also quite healthful and not just as an appetiser. Let's examine the various health advantages of consuming papad:
Papads are produced with lentil flour, which means they often don't include any wheat or ordinary flour. This is quite safe for people with celiac disease and digestive problems. Papad is safe to eat for those who are gluten intolerant.
It is a fibre-rich appetiser as well. Numerous medical disorders, including diabetes, benefit greatly from fibre. Fibre maintains the stomach healthy and working properly.
In Papad, there is also a lot of protein. It might aid in causing the body to absorb healthy nutrients.
Papad promotes healthy digestion. This is because different enzymes are created by the simulation and released to support metabolism.
Papad is another beneficial prebiotic food. It is a substance that aids in promoting the development of beneficial gut flora. This aids in both digestion and nutrition absorption.
Papad from Udad Papad 400 Gm Manufacturer has a 46 Glycaemic Index according to measurements. This indicates that the Papad has a low Glycaemic Index score. As a result, it wouldn't significantly affect a diabetic's blood sugar levels. Papad is low in sugar and, when consumed in moderation, is safe for diabetics.
A safe choice is to include papad twice or three times per week. It's crucial to consume it sparingly and to choose roasted varieties over greasy fried ones.