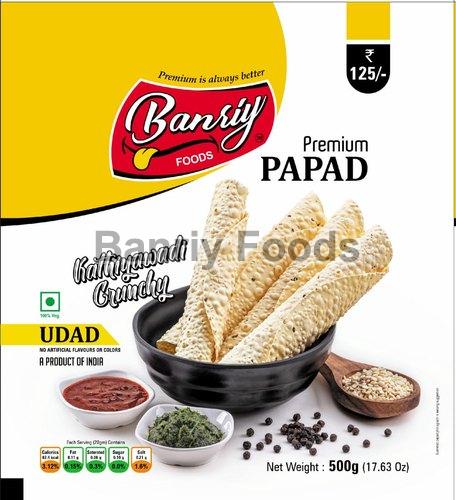 Udad Papad Manufacturers are readily available to serve the best taste to the customers. The papad can be used as a healthy snack with morning and evening tea.
Papad is referred to as a thin Indian wafer which is also known as a flatbread or cracker. It is normally prepared from dried lentils; eaten fried or roasted. Flours prepared from other sources which include chickpeas, rice, lentils, or potato, can be widely used.
UDAD papad about:
The delicious Udad papad is prepared from 100% Udad dal. Called the all-time classic papad, made with the top sourced ingredients for the most genuine and tasty taste. Enjoy with – This papad is perfect to be used as an anytime snack with dips or as an addition to meals.
Why Choose Urad Papad? Are they healthy Solutions?
Urad dal possesses outstanding antioxidant properties that make it helpful for the kidneys, heart, and, liver. Moreover, it has a low glycemic index and high dietary fiber content that might be useful as a good food substance for patients having some kinds of diabetes and those focusing on weight control diets.
Urad Papad is known as a conventional Indian Snack, which can be easily added to any meal. One can easily have it as a snack. Mix up water and Urad Dal will form the dough. It needs a few hours to absorb the water the dough is created into rolls and then rolled into thin disks to dry out. In the dried form, one can easily store them for several months. Since, the papads are completely gluten-free, create a firm and inflexible dough.
Now, you can find conventional Indian snacks having no chemicals at all to get the finest out of them.
Health Benefits of Papad –
The papad made of the Daal (Urad) is a rich source of dietary fiber and protein, suitable for proper digestion. Moreover, it is completely Gluten-free and has a Low Glycemic Index.
Health Tip – Perfectly eat papad in a limited quantity with meals. You should avoid using it regularly as it contains too much salt. If you are suffering from hypertension, you should avoid using the papad on regular basis or another snack with salt. To make it healthier, you should roast it despite frying it. One can even add fresh vegetables, such as tomatoes, cucumbers, and onio ns to create the Masala Papad. It will add more nutrients and vitamins to the dish.
Find good Udad Papad Manufacturers online
If you wish to buy a good quality manufacturer of Udad papad, you can simply go online and find the best product delivered to your address. Before placing your order, you should make sure about the quality of the product. The product is made with premium quality, different sizes, affordable price, easy availability, longer shelf life, and Food grade packaging. With an ideal combination of lentils, oil, and spices, udad papad manufacturers turn them into a tasty treat served along with any cooking.